Let's get real about
infertility
Infertility doesn't discriminate. All people, regardless of sex, religion, socioeconomic status, race, or sexual orientation deal with it. 1 in 8 couples face infertility.
I have stage 4 endometriosis, one of the leading causes of infertility. I'm here to add tools, my experience, and voice to the stories of people who deal with the stigmas and barriers that get in the way of building a family.
It's important to break the silence and open up dialogue around infertility. This is not just a medical issue; it's a mental health crisis & complex sociocultural issue. Not only have I personally battled the pain of infertility; I counsel people everyday who are navigating it.
Let's jump in and learn some tools to begin to
feel, deal & heal
I created this course to provide you with education and ideas for coping with your infertility experience. Whether you've dealt with repeated loss or this is your first time, I wanted to give you a resource that is pure support, tools, skills and coping mechanisms to help you navigate this difficult experience.
INFERTILITY
COURSE
Introducing...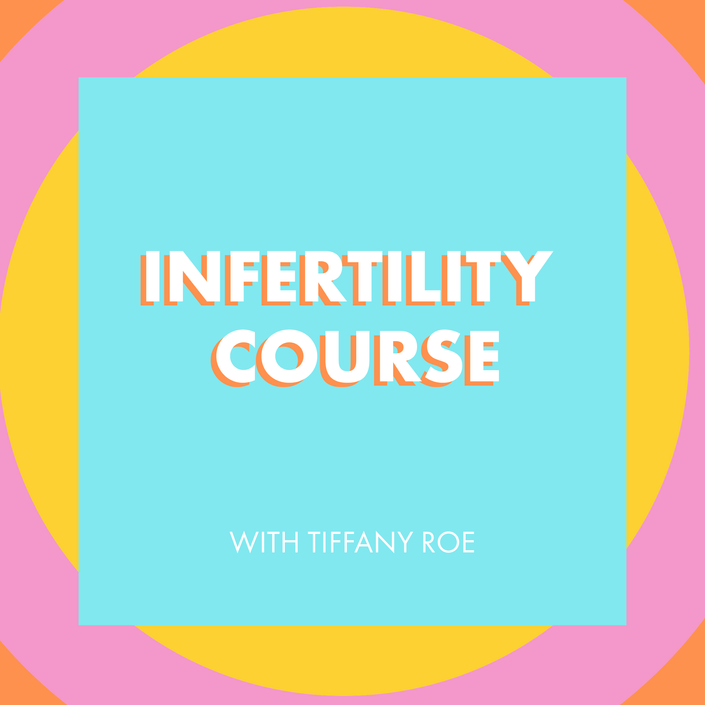 Infertility
This course is packed with tools, techniques, and skills to help you cope through your infertility journey.
•This course includes:
◦ 45-minute video lecutre where I break it down with you
◦ 17-page workbook to use alongside video lecture
(workbook is filled with interactive activities, journal prompts and education to
supplement your journey).
◦ Guided Meditation led by Tiffany Roe
◦ 7 PDF Downloads including:
◦20 Things to Say to Someone Dealing With Infertility
◦20 Things Not to Say to Someone Dealing With Infertility
◦How To Support A Loved One With Grief Freebie
◦It's Okay To Feel This Art Download
◦Grief Attack Freebie
◦Space for Grief Freebie
◦5 tools To Help You Move Through Grief Freebie
◦ Episode 28 of Therapy Thoughts podcast on Infertility with Camille Hawkins,
LCSW
◦ Interview with Nicola Salmon, Infertility coach and Author of "Fat and Fertile."
*COURSE DISCLAIMER: This course is not therapy. This course is not a replacement for therapy. This is not medical treatment or care. This is an educational course. I am a therapist, but this is not a therapeutic relationship. I recommend working with a licensed professional during your experience so you have as much support as you can!*
Course Curriculum
Available in days

days after you enroll

Infertility Online Course
"This course is invaluable for anyone dealing with infertility. Tiffany speaks from both expertise and experience in ways that will make you feel deeply understood, supported and helped. She not only offers the permission to grieve that so many of us with infertility need, but teaches us methods of grieving. I left the course with a paradigm shift on how to emotionally manage my infertility and with multiple tools to keep working through this challenging experience. I can't recommend this course enough!"
–Hayley Rawle
"An incredible resource for anyone navigating the challenging and heart wrenching journey of infertility. As I listened to Tiffany talk, I realized that there are SO few resources like this for those of us who are going through infertility-and how much we NEED resources like this. I recommend this to anyone who is part of this club (that no one wants to be a part of)."
–Dr. Colleen Reichmann
"As an embryologist, I see people going through infertility and IVF every day. There are so many strong, complicated and heartbreaking emotions. Unfortunately, doctors and other clinical staff have no formal training when it comes to addressing the mental health aspects of infertility. This course that Tiffany Roe developed is amazing because it does just that. She combines her knowledge of mental health with her own experience with infertility. The tools that she provides are amazing and something I wish everyone struggling with infertility had."
-Shaun B. Reed
Frequently Asked
Questions
How does lifetime access sound? After enrolling, you have unlimited access to this course for as long as you like - across any and all devices you own.
Many clients come into therapy after taking the classes wanting to go deeper into their own beliefs, thoughts, feelings, and behaviors. Other clients come into therapy and enjoy course material as homework between sessions. These courses are not an appropriate substitute for therapeutic treatment, a therapeutic relationship, or formal medical or mental health care. Courses are a general educational tool geared toward general populations seeking information on specific topics (mindfulness, body image, etc.) Online courses are for educational purposes only. Think, psychology class combined with self-help suggestions. Therapy is a professional relationship with in-depth individualized goals, interventions, feedback, and support.
Great question! All you need to do is enter in the recipient's email address and name at point of purchase. They will then receive a confirmation email with the necessary login steps to access their course!
You might want to check out my Perfectionism and Self-Love Course for a deeper dive into self-worth. Click here to find out more
This Is
Perfect

For You If...
You're currently navigating infertility and are looking to add more coping skills and resources to your mental health toolbox!
You're ready to feel deal heal your way through your infertility journey.
You are looking to better your understanding & education surrounding infertility.
But
not

for you if...
You're not ready to dive into this healing work.
You are needing a higher level of care to work through trauma (I highly recommend working with a licensed professional during your experience so you have as much support as you can.)