Get grounded with

Intro to Mindfulness
Learn the WHY and HOW of a relatable mindfulness practice.
Do you struggle with

slowing down?
Do you struggle with slowing down your racing thoughts and emotions?
Well, you're not alone fam.
Nothing about me is slow or chill. I'm extremely high energy, a busy body, anxious, production driven and jittery.
But in efforts to reclaim self-care that keeps me afloat, mindfulness has always been, and will likely always be, the foundation of my emotional regulation and mental health skills.
Mindfulness is all about paying attention to this moment without

any judgement

.
Mindfulness is a research based tool to help anxiety, depression, pain, recovery, insomnia, and mental health in general.
It benefits ALL.
I don't practice mindfulness because it's easy or natural, I practice mindfulness because it's NOT. It's exactly what I need to foster awareness, focus, and positive mental health️.
intro to
mindfulness
No Matter What You Try...
You're experiencing scattered thoughts
You feel bogged down with a constant stream of thoughts running wild in your head.
And even anxiety
You're not sure what you can do to bring focus and awareness back to the present moment.
And you can't escape from negative thinking
You feel out of control with your negative thoughts, comparisons, and beliefs.
Well, what if...
You had tools to help you build awareness?
We're talking real skills to help you foster an awareness of your thoughts and beliefs.
You could learn how to manage your emotions?
Let's discover different skills to help you manage your mental health.
You finally felt peace?
This is where the magic happens, fam. Through learning specific skills and exercises, you can incorporate mindfulness in your DAILY LIFE.
Introducing...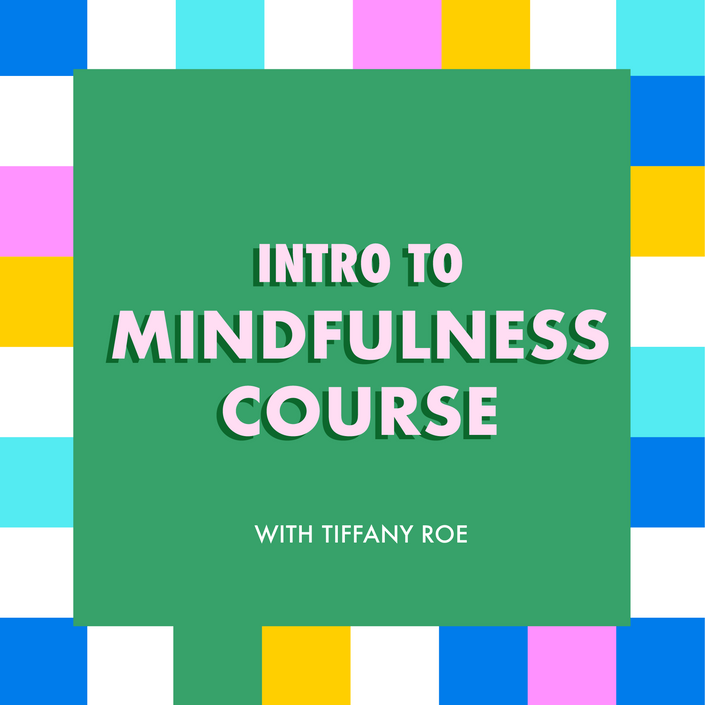 Intro to Mindfulness
Tune into this one hour webinar where Tiffany Roe, Clinical Mental Health Counselor and Founder of Mindful Counseling, teaches you the "why" and "how" of a relatable mindfulness practice.
In this course we explore:
Simple and applicable tools to use mindfulness in your everyday life
Guided mindfulness meditations
Explore skills of observing, describing, participating, and practicing non-judgment.
Examine mindfulness of breath, body, thoughts, emotions, eating, and daily behaviors.
How-to's of navigating and managing mental health using mindfulness
Guided visualization of mindfully attending to emotions and bodily sensations without judgment or attachment.
12 specific Dialectical Behavioral Skills (DBT)
Additional Resources:
Audio track for on-the-go listening
Written guided meditation script
BRAND NEW 11-page course workbook filled with journal prompts, activities, extra tools, and more!
Course Curriculum
Available in days

days after you enroll

Intro to Mindfulness
Frequently Asked
Questions
How does lifetime access sound? After enrolling, you have unlimited access to this course for as long as you like - across any and all devices you own.
Many clients come into therapy after taking the classes wanting to go deeper into their own beliefs, thoughts, feelings, and behaviors. Other clients come into therapy and enjoy course material as homework between sessions.
These courses are not an appropriate substitute for therapeutic treatment, a therapeutic relationship, or formal medical or mental health care.
Courses are a general educational tool geared toward general populations seeking information on specific topics (mindfulness, body image, etc.)
Online courses are for educational purposes only. Think, psychology class combined with self-help suggestions. Therapy is a professional relationship with in-depth individualized goals, interventions, feedback, and support.
Great question! All you need to do is enter in the recipient's email address and name at point of purchase. They will then receive a confirmation email with the necessary login steps to access their course!
You might want to check out my Emotional Regulation Course for a deeper dive into feeling big emotions. Click here to find out more
"Thank you for the mindfulness course. I'm using it right now to handle difficult feelings with the quarantine. I am also using it to handle my toddler's tantrums (that are increasing in quantity as time inside goes on). I'm observing him, listening and observing my self and what feelings I was having. WITHOUT judgement. I can tell a big difference. The spiraling is stopped before it gets too intense. Thank you!
–Intro to Mindfulness Student
"This was a great reminder and run down of what being mindful looks like. Not judging judgement is the breakthrough for me. And knowing it's not about perfection or having no thoughts or negativity but just noticing what is here and now and accepting it. Thank you!
– Intro to Mindfulness student
This Is
Perfect

For You If...
You've always struggled with NEGATIVE THINKING
You want take the next step in your mental health journey
You're ready to incorporate mindfulness in your daily life!
You're not willing to put in the work
You're not willing to set aside time for moments of mindfulness in your day