I made this course for
you
Are you ready to make your business legit and jumpstart your online presence?
Finally!
A NO BS online course for helping professionals who want to up their social media game and make their helping biz legit. You feel called to this work. But maybe you feel stuck. You can't shake the old school fear culture and rigidity around marketing yourself. You're often told to blend into the background and avoid being yourself. But you feel likes there's something better. BECAUSE THERE IS.
I was there. Right where you are. So I started. I started showing up on social media. I started Therapy Thoughts. I started being myself. And I started growing the business that I always wanted.
Now I've made this course for you so you don't have to
be alone or make it up!
There's something for every helping professional without leaving out beginners. If you've never opened social media, haven't started a helping practice, don't know what marketing is or anything about niche, you can comfortably take this course! If you've been in the game a while and are killing it in some areas, but need support going next level… I will be your hype girl in this course.
biz
school
This Course is for you if...
You are a...
Therapist, Counselor, Coach, Teacher, Yogi, Meditation Guide, Healer, Dietician, Holistic Leader, Medical Pro…HELPER!
And
You are looking to...
Change the game together - ethically, professionally, with a modern edge. I gotchu.
picture this...
You're doing the work you're called to do.
You can be yourself and use your personality to attract clients that you WANT.
You rest easy marketing through social media because you KNOW it's ethical.
All your paperwork is ready to go...client intake forms, informed consent, employee handbooks, 1099 contracts. You are SET.
You can elevate and scale your business in a way that feels organic and sustainable.
SO, YES! This course is for you. You got this, and I'm here for it!
Introducing...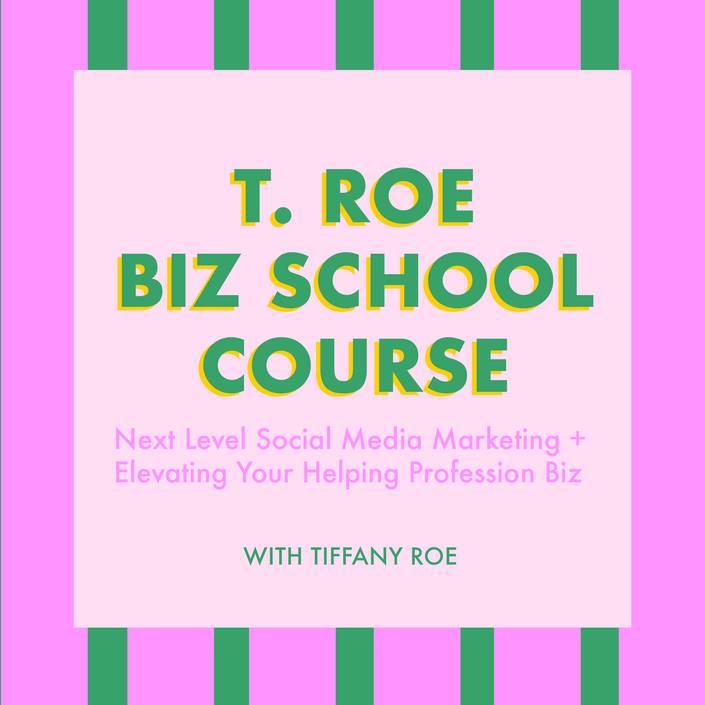 T. Roe Biz School: THERAPIST TO SOCIAL MEDIA PRO
•This course includes 3 hours of video education with Tiffany teaching you:
◦ Social media basics
◦ Identifying and challenging fears
◦ Affirmations
◦ Ethics for counselors
◦ Finding your niche
◦ Defining your why
◦ Marketing strategies
◦ Engagement tips
◦ Collaborating
◦ Branding
◦ How to grow followers and get real clients
◦ Boundaries
◦ Self-disclosure
◦ Informed consent
◦ Social media policy
◦ 15 FAQ & permission slips I give all my consultees
◦ PLUS a 30 page Workbook (valued at $1,000)
•Bonus content:
◦ Downloadable social media policy for your helping practice that follows counselor
ethical guidelines.
◦ 10 steps to launching a bomb online course. Tips from Tiffany who has made six
figures of passive income from online courses. Get signed up for your own
online course platform here: http://sendmeto.teachable.com/DRWcq
◦ 1 hour video interview with Brittany Ratelle, attorney at law,covering your
frequently asked questions and telling us how to be legally legit! $500
◦ 1 hour video interview with Chelsea Scanlan, marketing professional and
and business strategist with 10 marketing strategies for helping pros that I don't
cover! $500
◦ Sample marketing plan $100
◦ Sample content calendar $100
◦ Resource list of apps and websites that we recommend for any business $100
◦ Complete helping business paperwork bundle from Tiffany's group practice
($2400) including:
◦ Company Policy Handbook for Independent Contractors
◦ Independent Non-Clinical Staff Contractor Agreement
◦ Independent Counselor/Therapist Contractor Agreement
◦ Social Media Policy
◦ Informed Consent and Contract for Coaching Services
◦ New Client Intake Packet
◦ Company Policy Handbook for Employees
Course Curriculum
Available in days

days after you enroll

35 PAGE COURSE WORKBOOK
Available in days

days after you enroll

T. Roe Biz School for Helping Pros
Available in days

days after you enroll

BONUS MATERIAL
Frequently Asked
Questions
YES! This course is designed with that in mind. Take things at whatever pace feels best for you!
Due to the high value of information and intellectual property provided from multiple individuals, all sales are final. No returns. No refunds.
Helping professionals who want direct actionable consulting tips to elevate and scale their biz
Helping pros looking to grow their social media presence and get real & ideal clients
Helping pros who are called to this work but hesitant to move forward due to fears, ethical questions, imposter syndrome, and other barriers.
Great question! All you need to do is enter in the recipient's email address and name at point of purchase. They will then receive a confirmation email with the necessary login steps to access their course!
You might want to check out our business course website for details, reviews, and more. Click here to find out more
""I LOVE how comfortable you make me feel when I watch your classes or I'm at a live class. Your passion and compassion come through the video and really motivate and at the same time comfort me. This helps me have the drive to do the hard work, but also to love myself where I'm at. This allows me to let the journey be mine and be good with that, which is just what I needed right now. A couple times when I started to feel overwhelmed with the decisions to make or the work it takes, you'd always level things out with realistic expectations and application.
You make it feel doable or help me take full ownership. The course was filled with personal examples of how you've done this work, but also filled with ideas and inspiration to make it match my personality, style and purpose. The content was incredibly thorough, especially the legal aspects for therapists, which I found interesting and helpful as a coach. I feel refocused and ready to take the next small step without overwhelm."
–JILL FREESTONE, Relationship & Anxiety Life Coach for Parents & Teens
"If you need a solid kick in the ass to BEGIN building your helping professional practice AND face your fears while challenging your inner perfectionist, this course is for you. I have kept waiting for the "perfect" time to take my business to another level and didn't realize it was my fear holding me back from taking important next steps. Tiffany has helped me clarify my fears as well as my motivations moving forward.
As someone who is deeply dedicated to ethical practices, I really appreciated Tiffany's exploration of the ethics as it relates to social media, competency, and technology. It reduced my concerns while empowering and educating me to move forward with evolving best practices. I feel more clear and confident in my social media interaction and engagement."
–SARA HUGHES-ZABAWA, Licensed Clinical Social Worker, Yoga Instructor, Wellness Coach
This Is
Perfect

For You If...
You're looking to book more clients
You want to learn how to make more money
You're ready to learn how to successfully market your business on social media